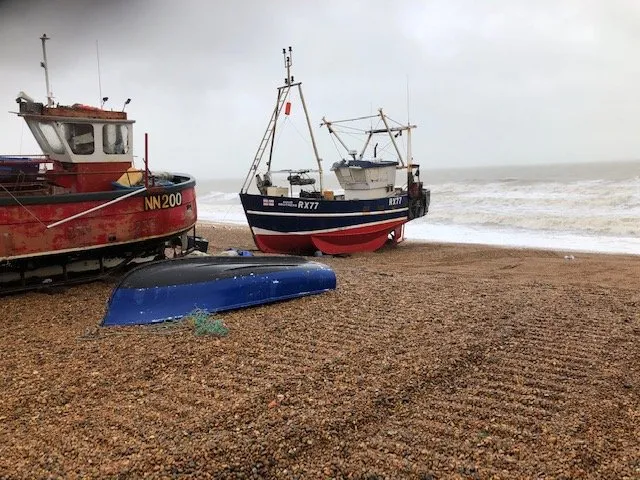 The fishermen of Hastings once dreamt of a return to a Britain that charted its own course, freed from having to share its coastal waters and fishing opportunities with French, Spanish and Dutch rivals. It was a powerful message behind Brexit – symbolising 'our island nation', which once ruled the waves and now had to abide by European rules. Hastings catchers were among the most enthusiastic supporters of Brexit, making clear their backing in the 2016 referendum.
Fast forward to today and you would imagine that a government whose commitment to Brexit is undiluted would share their dream. But these fishermen's hopes, and those of other small fishing fleets throughout the UK, may be thrown overboard in what is shaping up to be the first step in a cynical trade-off in pursuit of an EU trade deal. Fishermen's leader Barrie Deas scents a potential sell-out in the three-year transition period offered by the British side in the negotiations.
Salvation is supposed to lie in a new Fisheries Bill progressing through Parliament. The legislation promises to give Britain much more of a pivotal role than it had in the EU. But the signs are not good. While the Bill aims for fisheries to be managed in the public interest, amendments designed to cement a better deal for coastal fishing communities such as Hastings have been rejected by the government.
Among the proposed changes that 'got away' – voted down in the Bill's recent committee stage – were for fish landed in the UK to be processed here, along with greater investment in Britain's port infrastructure.
But perhaps the most telling rejection of all was a proposal to ban super trawlers from UK waters. The amendment was designed to outlaw their current dominance and put sustainability firmly in the hands of smaller operators, whose livelihoods depend on managing fish stocks sustainably.
Britain has for decades taken part in complicated annual EU negotiations to decide how much fish can be caught and in what sea areas. It is then left to individual governments to portion out their national shares. In Britain, it has been the big operators who have won out. Although 90 per cent of the UK fishery is made up of under ten-metre boats, they get less than 10 per cent of the national quota. And over a quarter (29 per cent) of the UK's fishing quota is owned or controlled by just five families on the Sunday Times Rich List, according to an investigation by Greenpeace.
This "historic inequality" in the industry is not being addressed, says Rebecca Newsom, head of politics at Greenpeace. Of the Bill, she said: "While [it] could open up opportunities to fish in more areas around our shores, the government has still failed to confirm that fishing opportunities will be shared fairly on transparent environmental, social and economic criteria.
"Until this guarantee is made for both current and future quota, the promise of 'taking back control', which has been repeatedly made to coastal communities and local, low-impact, fishers, will remain a vanishing dream."
It wasn't meant to be like this. The Conservatives' 2019 manifesto promised a "post-Brexit deal for fisheries". A key pledge was: "We will maintain funding for fisheries across the UK's nations throughout the Parliament and support the regeneration of our coastal communities."
Hastings is one of many small fishing communities scattered round the coast and home to the UK's largest beach-based fleet. Under the quota system, the 25 or so boats have frequently lost out. Paul Joy, chairman of Hastings Fisheries Protection Society, who skippers one of the under 10-metre boats, said in an interview last year:"To leave with no deal, that would be brilliant for us, because that means we can take control of our national waters again. 82 per cent of all Europe's fish was formerly British. And we got 8 percent back in monetary value. So, we gave it all away. And now we want our fish back and we want our territorial waters back."
"We can't fish into 12 miles of the French shore," he adds, "they can fish into six miles of ours. Is that fair? It's not. And it's destroyed the fishing industry in this country."
Peter Chowney, who stood for Labour in Hastings & Rye in both the 2017 and 2019 elections, agrees, up to a point. "The main problem is that our local fisheries are not allowed to catch enough fish," he said.
"Brexit has been hailed as a possible solution to the problems of the smaller fisheries. But there would still have to be quotas, still allocated by the UK government. And we'd still have to negotiate access to shared fishing grounds in the Channel, Atlantic and North Sea."
One added irony, he says, is that over 90 per cent of fish caught in Hastings and Rye is exported to France.
It has long been the case that we British consumers are particular in our fish needs. We largely reject herring in favour of cod, for example. And we are not as keen as the French on lobsters.
The French market, in other words, is crucial to the survival of the Hastings fishery. And with the end to tariff-free trading, that could be in some doubt. "Brexit isn't the salvation for our local fisheries," said Chowney. "We need bigger quotas for the under ten-metre fleet, regardless of the outcome of negotiations on future national quotas."