This year – the 50th anniversary of the UK's first Pride parade – sees Pride return to in Brighton on 6-8 August after a two-year gap, with all its usual positive energy and euphoria. In fact, this process has already begun, as I saw for myself at Brighton's Trans Pride parade on 16 July, which carried along the seafront a perfect combination of joyful disorder and righteous rage; and the cheers and support of bystanders could not come at a more important time.
It's worth, on this anniversary, reflecting on the progress made towards LGBTQIA (hereafter LGBT+) liberation over the course of a single human lifetime. If you are over 60, you were growing up at a time when homosexuality was outright illegal. Following its nominal and limited decriminalisation in 1967, homophobic repression under remaining legislation dramatically increased in subsequent decades, alongside an outwardly homophobic culture that made LGBT+ victories few and far between.
Progress on gay rights
By contrast, my own lifetime testifies to definite progress. I grew up at a time when homosexuality was pretty well accepted. Gay and lesbian people were well represented in popular culture, homophobic bullying in schools significantly decreased, and Section 28 was studied in history lessons. This certainly isn't to say that lesbian, gay and bisexual people no longer face bigotry – in some ways we're sliding backwards – but these communities have had much success in winning the liberation for which they've long fought.
Nevertheless, Pride should be wary of complacency. There's one part of the LGBT+ coalition whose progress has been notably more difficult. Transphobia is among the few forms of bigotry whose open display remains widely acceptable in Britain, and the transgender community has lately become a major target of far-right culture wars, as we saw in toxic exchanges during the Conservative leadership debates.
Fear of walking the streets
Most people will be unaware of the disproportionate rate of hate crime directed at trans people – around double that endured by the LGBT community as a whole, according to a 2017 report from the rights organisation Stonewall. Consequently, 44% of trans people avoid walking certain streets out of fear for their safety, compared to 26% of cisgender LGB people. Similar disparities exist for discrimination in employment, in use of retailers and in renting or buying homes.
The latter point is all the more important given that not only are LGBT+ people overrepresented in homelessness statistics, but trans people are likely to face difficulty accessing appropriate shelters and support services when homeless. Many of these discrepancies are further compounded when one considers additional factors of race or disability.
We can glean several conclusions from this data.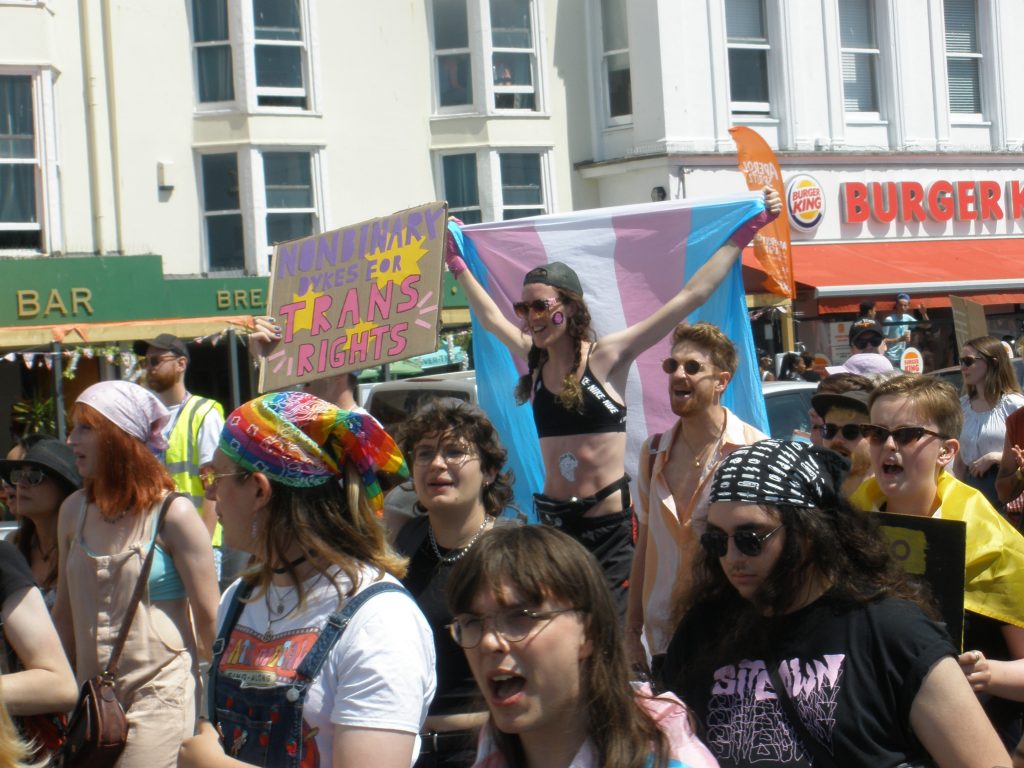 The trans community has been left behind
Firstly, LGBT+ issues are very much class issues, despite attempts to portray them as niche concerns of a 'woke' elite. More than just about draping a rainbow flag around business as usual, fighting for LGBT+ rights is very much about protecting and improving the NHS, increasing workers' rights and addressing homelessness, all of which lift up the whole of society.
Secondly, the trans community has clearly been left behind as greater acceptance was conceded to gay people. This gap is now being exploited by a range of reactionaries to whip up division by turning the trans community into a national punching bag, exemplified by the Tories' obstinate refusal to amend the Gender Recognition Act to make changing one's gender on legal documents easier and less intrusive, and more recently, their cruel exclusion of trans people from the ban on conversion therapy. This anti-trans mania is likely to reach fever pitch as the Tory leadership race unfolds.
Media silence on transgender healthcare
Trans people typically face greater marginalisation, even more so than cisgender LGB people. Negative coverage over their existence pervades much of Britain's media: rarely does one hear any real information about issues facing this community. When did you last see a report by the BBC or a major newspaper about the crisis in transgender access to healthcare?
There are to this day just seven NHS Gender Identity Clinics in the UK, only one of which serves people under 17 (by which age most will already have completed puberty). The latter – the Tavistock and Portman GIC in London – has a waiting list of around four years for a first appointment.
This is enabled by a right-wing media which treats trans people as a freak show: at best an object of ridicule, at worst a sinister group of deviants. As many LGBT+ campaigners point out, the current 'moral panic' over trans people bears a striking resemblance to the homophobic hysteria of the 1980s and 1990s, such as over the lowering of the homosexual age of consent.
This treatment is further legitimised by high-profile cultural figures, including contrarian comedians who trot out tired, transphobic jokes in a contrived attempt to provoke backlash, after which they can claim to have been victimised by 'cancel culture'.
Broad support from public
So far, despite the sensationalist portrayal of 'the transgender debate,' the British public remains broadly supportive of trans rights, with cisgender women [those whose sense of personal identity and gender corresponds to their birth sex] generally more supportive than men. But if bigoted media coverage isn't forcefully challenged, this support will be easily eroded, inevitably leading to a wider anti-LGBT+ reaction.
Reclaiming Pride's radical roots
Therefore, this year's remaining Pride events must follow the lead of the London parade and take a stand. In addition to supporting Brighton's dedicated Trans Pride events, the wider Pride campaign should rekindle the political radicalism with which they were founded, demanding fundamental societal change for the many. This must include an unwavering commitment to solidarity and unity with the trans community. A movement, and a society itself, is only as secure as its most marginalised.
---