It all starts with a call, a bleeping pager warning of trouble off the coast of Newhaven, East Sussex. For RNLI lifeboat volunteers, this means only one thing – a shout, or call-out, is about to begin. With their clothes at the ready, the volunteers head straight to the station where a team briefing calmly prepares them. Then the lines are let loose and the team is away.
While each shout may be different, the team of 17 highly trained and dedicated volunteers remains an unwavering presence in Newhaven. Three of the team agreed to share their stories and experience with us.
When Katie Dusart is not saving lives on land as a paramedic, she is saving them at sea with the David and Elizabeth Acland, otherwise known as the Newhaven lifeboat. She shared her experience of volunteering over the past three years.
"The RNLI is designed to help anybody, without judgement, who gets into trouble at sea," Katie said. "My job is to make sure that anybody who is in danger or struggling is provided with assistance, hopefully rescued and then brought back safely to shore."
"It's helping people and saving lives… you also get to play with big bits of kit"
Will Morris shared his motivation for joining the RNLI Lifeboat team five years ago. Like Katie, Will is also a paramedic.
"I've always volunteered for different organisations. Ever since I was 16, it's always been my thing," Will said. "It sounds a bit clichéd but it's the helping people and saving lives. But you also get to play with big bits of kit."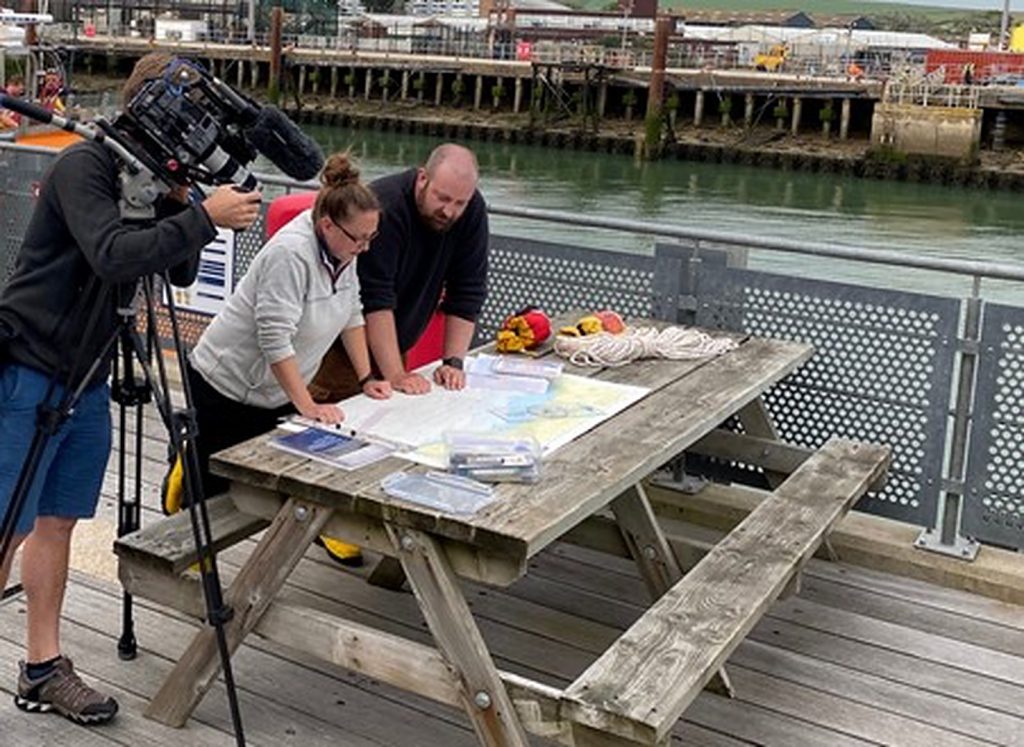 For Nick Gentry, the longest serving RNLI volunteer in Newhaven, boating has been a constant in his life.
"I've spent since the age of nine years kicking about on small boats around Newhaven harbour," he said. "At that time, several of the lifeboat crew worked in the marina. I was spending so much time around there that I saw the lifeboat going out and I thought: that looks exciting."
Volunteering for the Newhaven lifeboat is a big commitment. Their training is thorough, designed to convert a complete novice into skilled lifeboat operator in a year, a process that requires the passing of a selection of competency-based training assessments. Once complete, volunteers become substantive crew members, ready to respond to trouble at sea.
"We don't have shifts as such," Nick said. "I think that's probably a popular misconception. We're just available for as many hours as we can be around normal life."
Most shouts are instigated by HM Coastguard. But the RNLI, as an independent charity, is free to decide whether to respond – and they usually do.
Nick explained that for the lifeboat to be launched, a bare minimum of five volunteers are needed to cover the positions of Coxswain, Navigator, Mechanic and Crew. But on some occasions, more hands will be needed on deck, especially if the small inflatable lifeboat needs to be put into action.
Nick said his favourite role on the boat was Navigator. "It's what I do most, and I have done it for donkey's years. I like it because you're in amongst the middle of it, whatever is happening, you are the one getting all of the information in over the radio. So you are really involved in the process of what's going on."
After having weathered many storms together, the lifeboat volunteers have formed an incredibly close-knit team.
"It's similar to a rugby team because there's a place in it for the big strong people and the small fast people", Nick said. "It's much like that on a lifeboat. Everybody brings something different to the team, so it just works."
Volunteer Will Morris agreed. "We are a close-knit strong group because the things you go through aren't your kind of everyday things that a group of friends would normally go through. You get yourself in some quite tricky and dangerous situations. That just bonds you."
The Newhaven crew is part of a wider network of RNLI volunteers across Sussex, and they have forged strong links with the teams in Brighton, Shoreham and Eastbourne. Nick recounted how the Newhaven team had helped to train new volunteers in Brighton in the early 1980s. This cemented a link between the teams; they still share an Operations Manager.
Despite this, there's still rivalry between teams. Asked if the Newhaven boat was the best, Will said: "Naturally! It's got to be hasn't it? I mean it's the biggest in the fleet and it's the most powerful."
Come back for Part 2 next month, where you can learn more about the shouts launched from Newhaven harbour and why these three dedicated volunteers respect the waves.