To celebrate the first anniversary of Sussex Bylines' inaugural issue, we asked some of our key contributors to write a short piece on the subject of "What Sussex Means to Me". From memories of being a student at the newly built Sussex University in the sixties while living in shabby digs in Brighton, to the enduring ancient magic of bonfire night in Lewes, what follows is a wonderfully eclectic mix of mini personal essays. We have published them separately, but here they are in 'one hit'
My own private (rented) beach chalet – Hilary Lawson
It's a little-known secret that you don't have to shell out in excess of £20,000 to be the lucky owner of a Brighton & Hove beach chalet. You do need, however, a bucketful of patience to wait for your name to rise to the top of the Brighton & Hove beach chalet rental waiting list.
The day an email from the Council informed me I was now eligible to rent a beach chalet on the Rottingdean seafront, I was very surprised. I had totally forgotten that, on a whim around 10 years ago, I had put my name on their waiting list. I took a friend over for a viewing of the chalet.
Whatever image the term 'chalet' conjured in my mind, the row of 20 concrete bunker-like units, each with a pair of faded and cracked blue-green painted doors and rusting hinges and locks, was not it. My heart sank, but my friend was brimming with excitement: "Stand with your back to the doors and look at the view!" She was right- there was a small, gently sloping pebbly beach dotted with sea cabbages, bordered on one side by a groyne of large rocks, and on the other a wall from which teenagers were egging each other on to dive into the water below.
It was a no-brainer. My friend and I decided to go halves on the rental. The chalet has become our happy place, made even more precious in the knowledge that it is time-limited – we must hand it on in five years' time. Rottingdean is one of five fixed term rental chalet locations managed by Brighton & Hove Council, the others being: Hove, Madeira Drive, Ovingdean and Saltdean, all with a five-year tenancy, and with the annual rental rates ranging from around £840 to around £1500.
The chalet is a perfect place to sit and stare. Because it's a sheltered beach it attracts families with small children during the day, and older teenagers with barbecues in the early evening, but it is never crowded. It is also a final resting place for debris tossed up on the shore during storms. Last Christmas a 4 metre tree trunk arrived, stripped of its bark and polished by buffeting waves before being washed up on our little pebble beach. It's become a permanent feature. We sit and wonder about its origins. Others sit and eat their sandwiches on it. Young children walk with arms outstretched, balancing along it. Dogs sniff and pee on it.
Although using the chalet was prohibited during the first pandemic lockdown, since then it has been a refuge – somewhere 'other' to go at a time when our movements have been so restricted. It has provided a destination for the endless walking many of us have been doing in these Covid times. A place to meet outdoors, numbers circumscribed by changing, and often baffling, Covid regulations of 'households', 'bubbles' and 'rules of six'. It's a good place for difficult conversations, too, deckchairs facing the sea rather than each other, enabling tricky words, previously locked up in the same way we have all been physically constrained, to be released.
Gazing out to sea watching the Newhaven to Dieppe ferry make its three-times-a-day crossing, we fantasise about being on the far shore of the Channel. And every now and then – and I really can't explain this – our mobile phones randomly jump ahead an hour, changing to French time, as if obligingly transporting us to our very own Rottingdean-sur-Mer.
With all local authorities so cash-strapped by a decade of Government austerity policies, it is surprising and very welcome that Brighton & Hove can still offer its residents these little gems of seaside oases*. We will be terribly sorry to give our chalet up at the end of our term, but it's quite right that precious limited resources are shared and we just hope it gives its next occupants the same joy and calm that it has given us.
*At the time of publication, according to the Brighton and Hove City Council's website, all beach chalets are rented and the waiting list is currently closed.
Daring to cross the border – Ginny Foster
Born in Beckenham, Kent in the 1950s, before it became assimilated into the South London sprawl; subsequently moving to Tunbridge Wells — my parents' hasty retreat to that commuter haven prompted by our unadopted streets being tarmacked, making it clear that, beyond all doubt, they now lived in London; it was always impressed upon me that I was Kentish. I was inordinately proud when my Dad told me that Tunbridge Wells had refused to allow itself to be moved into East Sussex as part of the 1970s boundary changes. But we were still perilously near the border and many of my new classmates were from the "other side", from the rural fastness that was definitely not one of the "home counties"!
Sussex represented everything exotic and mysterious to a child brought up within easy reach of train stations like London's Victoria. Being invited for a picnic on the Ashdown Forest and discovering that it was the 100 Acre Wood was thrilling; equally exciting were teenage parties in villages beyond reach of any form of public transport, or attending pop concerts in edgy, glamorous Brighton, with the inherent risk of not making it home (as there was no longer a direct rail link) adding to the exhilaration.
Leaving for university in Exeter, followed by a job in London, then marriage and children, meant that, for many years, visits to Sussex were few and far between, as we mostly ventured no further from the capital than weekends with my parents, still in Tunbridge Wells. But Sussex had not finished with me and, having a husband from Devon who loved the countryside and the sea, I agreed to move out of London when he retired. Kent was too tame for him and Devon too far for me, but Sussex by the sea was the ideal compromise. Lewes, an ancient town nestled in the Ouse valley by the South Downs, barely seven miles from the sea, yet still with a direct rail connection to London, seemed perfect for both of us. For my other half it was the fulfillment of a lifelong dream to escape to the country, and for me it was the relief of seeing him happier than I could remember.
However, admitting with due humility to being the 'down from Londoner' that I am, there is still the same sense of otherness that I experienced when young. The constantly changing light and shadow on the Downs and the strange sea fret that sometimes engulfs them; the dark nights so starry that it's like a glimpse to the furthest reaches of the galaxy; and the quiet – apart from the cries of unknown small creatures which I still cannot identify – have all disturbed and entranced me. If the natural world was a contrast to London, then so were the Lewesians, Sussex born and determined not to 'be druv'! This finds reflection in the infamous Fifth of November bonfires, a far cry from those organized in London parks. I'll never forget that first time when I gazed in near hysteria at marchers carrying their burning crosses, their effigies of the "enemies of the bonfire", and pondered their nonchalance with firecrackers and guttering torches.
But five years later, Sussex is definitely now home – a place where we have made new friends; got involved in local stuff; worked in a garden that we could only have dreamt about in London; and where we literally still cannot believe our stunning view of the South Downs.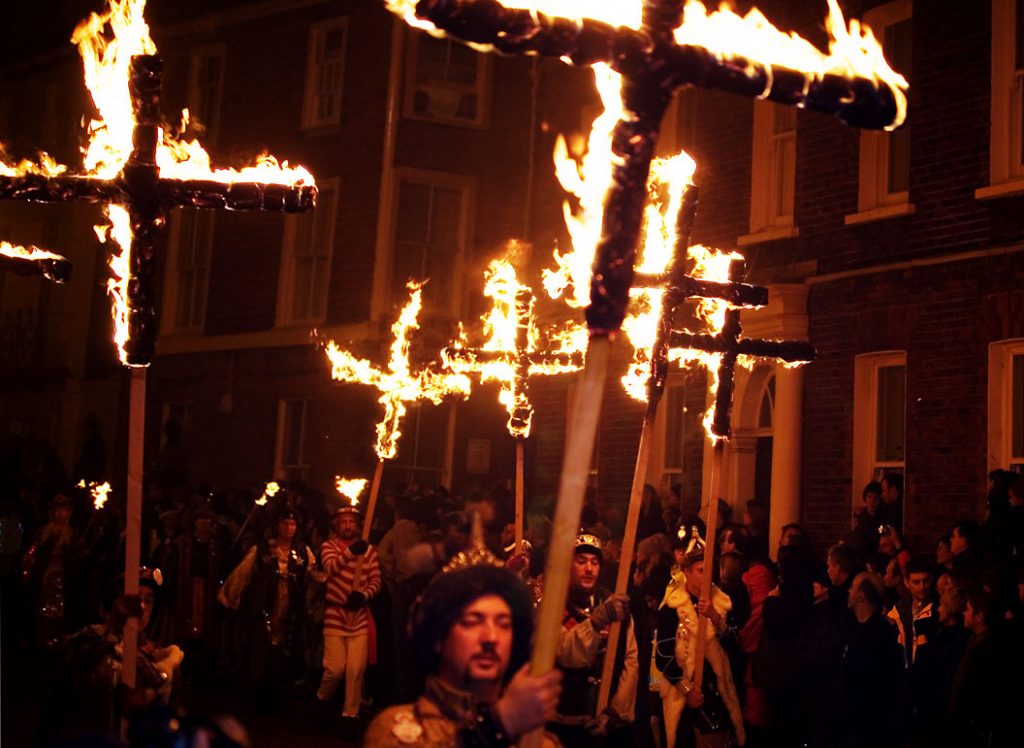 Sussex became home many years ago when I started at the University of Sussex as a young student. I walked onto the Falmer campus and was instantly entranced by the unique combination that life here brings… Country walks just a short distance away with the Downs surrounding us; beach life when the sun shines, heading along the coast for more peaceful seaside scenes; eclectic shops, restaurants and pubs wherever you go. But it was the rich mixture of people scattered about the place that quickly made it feel like home. And like many Sussex uni graduates, I never really left here for long. Even now, when I travel anywhere, I breathe a sigh of relief as I drive back through those Brighton gates.
It's still the wonderful variety of people here that I value the most. Over the years I have been lucky to meet curious internationalists, campaigners for social justice, party animals, festival fiends, pub goers, writers, musicians, artists… all forming such a heady mix of types that you'd rarely encounter together elsewhere.
Being involved in Sussex Bylines since day one has shown me that there is another way; that there are so many of us out there who want to see a different, better world. And from our little corner in Sussex we are all pushing to make that happen. Onwards and forwards!
---
West Sussex: super, natural and spookily supernatural – Charlotte Rawlinson
Sussex, specifically West Sussex, has been my home all my life. It's all I've ever known. My childhood memories are of primary school trips to the South Downs, Arundel Castle and Fishbourne Roman Palace. A later image comes to mind – studying for exams in a room looking out towards the spire of Chichester Cathedral. And as I explore the collection of images that make up my memories of the past, they are identified not only with people, but with places that have remained vivid in my mind – many because they were associated with local legends or with the supernatural. Bow Hill is one that I return to many times.
Seen from much of the West Sussex coast, Bow Hill lies at the heart of Kingley Vale Nature Reserve and as you climb it, you come across a strange set of mounds, which always fascinated me as a child. Known as 'The Devil's Humps'' and believed to be Bronze Age barrows, their presence contributes to the spooky atmosphere of the valley. Folklore also relates how the men of Chichester defeated a Viking war party at this spot, and it is believed that the Viking leaders were buried at the highest point to forever watch over and haunt the people of Chichester. Thousands of Viking soldiers are thought to have died within the vale, where one of Europe's largest yew forests still grows, dense and dark and impenetrable.
From the haunted yew forest of Kingley Vale to the magnificent Romanesque cathedral at the centre of Chichester, West Sussex is a place like no other. Filled with exciting stories, beautiful landscapes, and world-famous historical sites, for me it represents all that is meant by that old saying, "there's no place like home".
For me, Brighton and Sussex have always been synonymous. I first moved to Brighton in 1966 as a shy, 17-year-old student at the newly-opened Sussex University. Most of the campus was a building site, but Basil Spence's vision was emerging in the beautiful, first buildings, and Henry Moore sculptures dotted the grass. At that time, all first years lived in guesthouses located all around Brighton and Hove, which was quite an experience.
My landlady, like many, was highly eccentric. Every night she made a tour of the bedrooms, checking in the wardrobes and under the beds for any men we might be trying to smuggle in. I loved living near the sea and spent many hours walking back and forth along the seafront in all weathers between the eastern side of Brighton, where I lived, and Hove to the west. In the evenings, I worked at the Hanbury Arms in deepest Kemptown, where I got to know many of Brighton's extraordinary characters. The Brighton Combination, tucked behind West Street, was an exciting arts venue where I sometimes also worked and performed. Many students lived in (usually shabby) flats within the magnificent Georgian crescents in Hove, where I gravitated in my second and final years, always within view of the sea.
I never had a grand plan to return to Brighton, but in 1985, after living and working all round the country, including Yorkshire for nearly a decade, I unexpectedly landed a lecturer's job back at Sussex University. As I drove into the city, the car piled high with belongings, and my one-year-old son amongst them somewhere, I felt as if I was coming home. It's strange returning to somewhere you have lived before. It was the same, but not the same.
The university campus had changed enormously and the city had grown too, in a rather ramshackle – and not altogether pleasing – way. The seafront was pretty run down and the West Pier was already falling into disrepair. But it gave me great pleasure to rediscover earlier haunts and to find new, previously unknown, parts of the city, including Fiveways, near Preston Park, where my partner, growing family and I enjoyed living. And suddenly the whole of Sussex, previously uncharted, opened out for us: smaller towns and villages with their unique characters, and the endless Downs to explore and enjoy. Now, living high up above Brighton, I look out of my bedroom window every morning and see the sea.
People's Republic of Brighton – Robert Ellson
If you look at the electoral map of Britain, you'll see an enclave of red and green on the south coast, a little progressive haven in a sea of Tory blue. That's what drew me to Brighton in the first place, and I love living here, facing out to sea in a city that literally looks out beyond our borders. Getting involved with the launch of Sussex Bylines just confirmed that in those blue constituencies there are plenty of progressive people, silenced by our ridiculous electoral system but wanting to have their say. It's great to see how Sussex Bylines has helped make this happen, and amazing how far it's come in a year.
Home. That was my first thought, and an obvious one, since I live in rural East Sussex. Digging a little deeper into what the idea of "home" actually means to me threw up a series of images…. the county of my childhood, Cornwall, now so utterly changed that it's a fantasy home, a place of profound emotional connection and memory, but no longer of reality. Later, in early adulthood, a farmhouse in France, and more recently a heartstring family connection with the south-east of Ireland… but the place where I have spent the overwhelming majority of my life is Sussex.
Do I have "chalk in my bones" as my daughter, Sussex born and bred, feels that she does? No. I live here more as an observer – a profound admirer of a county (combining West and East) that contains perhaps more variety within itself than any other area of England – from the bare sweep of the Downs in the East to the broad wooded valleys of the West; from the heathland of the Ashdown Forest to the iconic chalk cliffs of the Seven Sisters; from the vibrant seaside city of Brighton to the scattered flint villages and hamlets of rural Sussex.
What do I love about this adopted county of mine? The unloved little town of Newhaven, with the ferry arriving from France twice daily and the fishing boats chugging into the harbour late at night, navigation lights glowing. I love the stubborn spirit of Sussex, immortalised in that motto: "We wunt be druv" and the revolutionary politics of Thomas Paine and the Brighton Suffragettes. I love the rural race meetings at Plumpton and the ritual of eating a curry from Alice's Noodle Bar before watching the next race; the purple haze of bluebells carpeting the woods in the spring; and the rivers of the Ouse, Arun and Adur winding their way down to the sea….
Of course, this is an entirely personal version of Sussex, romanticised and largely rural. And it's almost certainly entirely different from the next person's Sussex. Yet it's not a fantasy – all the things I describe are real and, for now, remain as they were when I first settled here 40 years ago. It's a "my Sussex" constructed from the joyous variety of landscape, people and places that this unique part of the country offers, even to the not-quite-fully-committed observer.
I've been in Brighton for 10 years now, and for a while it didn't really matter to me if I was here, there, or anywhere. But over time I've been fortified by some of the deeper currents that you maybe need a bit of time and quietness to tune into.
The other day I saw Shirley Collins do a small gig at Charleston on a beautiful summer's day. You can't be in those buildings and not feel the spirit of conscientious objection, experimental lifestyles, Virginia Woolf, people who imagine society differently. It's a heady mix. And here was Shirley Collins, 86 years young, channelling a different tributary: selling the Daily Worker in Hastings town centre as a child, Communist party singalongs at the Oakhurst Hotel, hooking up in Rottingdean with the Copper Family, that great repository of English song. Shirley represents a strand of deep Sussex society that is real and yet easily overlooked: the pre-1960s folk culture, just before it was to change irrevocably.
Some reassurance comes from remembering those earlier times: when we had a different momentum, riding, even if we didn't quite know it, the crest of an enormous wave. If now you go up on the South Downs on a clear day you can squint a bit and maybe imagine a high-water mark, a line where the wave broke and rolled back. But these things come again. It will not always be Farage and Caulfield and Natalie Elphicke sneering at the proles. There are great and honourable histories in this county too. Many of them.
---
What [East] Sussex means to me…
1950s: family trips to the seaside
1960s: boarding school [yes, I know!]
1970s: met and married my wife; started family
2000s: visits to now adult children and grandchildren
2010s: living in Wealden, retired and able to again enjoy the Downs, the sea, the flowers
2020s: writing for Sussex Bylines
…whilst at no time having an MP for whom I had voted!
---
The magic of Sussex Bonfires – Rick Dillon
Bonfire nights are back! After a year's absence, and as the days grow shorter, Sussex Bonfire Societies will once again take to the streets – pandemic guidelines permitting – ostensibly to celebrate the death of that bloke who wanted to blow up Parliament in 1605. But it's become much, much more than that. The sight of costumed marchers, their faces illuminated by flaming torches, caught up in the hypnotic beat from the accompanying drummers, feels thrilling and incredibly ancient… Meanwhile, the 'victims' sacrificed on the bonfire are invariably modern: at the last Lewes bonfire, in 2019, they burned an effigy of a urinating Boris Johnson, amongst other political "Guys". Lewes Bonfire night is by far the biggest spectacle in the county, on November 5. But 15 other towns play their part, the season crackling into life in Uckfield in early September. I'll be there when my own town, Hastings, takes to the streets on October 16. Here in Sussex, Bonfire night isn't just for children – and it never loses its magic.