In the third article in our 'Toxic Shock"'series, written and researched by Rick Dillon & Ginny Smith, they investigate the growing pollution of our seaside and our county's freshwater rivers, streams, ponds.
Protesters took to an East Sussex beach last week, anger boiling over at the continual failure of privately owned monopoly Southern Water to contain sewage discharges into fresh waterways, lakes and even the seaside.
More than 100 people joined a protest in Hastings, waving red flags like those erected by lifeguards to warn bathers during the recent pollution incident at nearby Bulverhythe. And now local councils, like Wealden and Hastings, are joining a wave of citizen action protests across the county.
Thatcher's toxic legacy
Everybody agrees something must be done, but the toxic torrents just keep on coming. The root of the problem is not hard to identify. Even the current Conservative MP for Lewes, Maria Caulfield, told us that she believes "this unacceptable situation" stems from the accountability (or lack thereof) of Southern Water to the public.
Of course, any real accountability was undermined in 1989, when the then public utility was privatised by Margaret Thatcher's government. It was part of a wave of Tory government sell-offs, driven by a 'private is best' ideology. And while many protested the folly of privatising essential natural resources like our water supply, others suspected it was mostly a cynical – and short-sighted – attempt to offload a problem of creaking infrastructure that would take billions to fix.
Subsequently, Southern Water became one of nine regional private monopolies. It is currently owned by a consortium whose members are shareholders in the top holding company, Jersey-based Greensands Holding Ltd. Beneath this sit various private holding companies comprising infrastructure investment funds, pension funds, and private equity firms, represented by a number of management companies, among them UBS Asset Management (UK) and JP Morgan Asset Management (US).
Big fines, bigger profits
The recent record £90 million fine imposed on Southern Water seems to have had limited impact on the board, apart from a reported recent temporary suspension of payments to shareholders, who took home close to £1 billion in dividends in the last decade.
The company had already taken a hit due to a £126m penalty imposed in 2019 by the regulator Ofwat yet, despite a consequent dip in revenue and profits, it still generated an annual operating profit of £138.8m as of end of March 2021, down from £212.3m a year earlier.
And it hasn't stopped the company awarding its chief executive Ian McAulay a £550,000 bonus. Conservative MP Damian Green described this financial pat on the back, coming just after the fine, as "ridiculous". John Nelson, the chair of the Chichester Harbour Trust, is quoted as saying: "Bluntly, the management at Southern Water is not fit for purpose."
Questions have also been asked about why Australian investment bank Macquarie is so keen to get involved through buying a majority stake in Southern. It claims the investment will help fix the pipes and sewerage systems throughout the South East, but a previous investment by Macquarie in Thames Water in 2017 left that water company with debts of £2bn, according to an investigation by the BBC.
Second worst polluter
Recent statements from Southern Water, including one following the Hastings incident, contain assurances and claims of being "deeply sorry" and explanations that the offences it was fined for are historic. But this rings hollow in the face of continual discharges of sewage into our water systems. In fact, Environment Agency data (see graphic) show it is the second worst water company in the entire country for pollution incidents.
The checks and balances on Southern and other water companies have been weakened over the years. Not only has the Environment Agency suffered cuts in funding, but the government decided that Britain would no longer be part of the European Environment Agency after Brexit.
EU to the rescue
Memories are short. Prior to joining the European Union in 1973, the UK was known as "the dirty man of Europe", with raw sewage contaminating many of our most popular beaches.  
The situation was transformed after the EU passed the 1976 Bathing Water Directive and later the Water Framework Directive, which laid down strict rules on the discharge of untreated wastewater into the sea and rivers. With the use of both carrot and stick (including bringing legal action against the UK government) the EU drove a significant improvement in the quality of our coastal and inland waters. Recently, however, the needle has swung back.
Regulators 'toothless'
River Action points out that government cuts of 79% over the past decade to the budget of the Environment Agency has resulted in a very severe curtailing of its activities.
"Toothless tigers" would be the kindest description of both the Agency and Ofwat, the industry regulator, in the face of the combined corporate power of the private water companies. And Southern Water answers only to its investors, not to the public it serves.
All eyes will be on the government's delayed Environment Bill this autumn. It does contain specific commitments to hold water companies to account, with regulator Ofwat being enabled "to improve its regulation of water companies through a more modern licence modification process".
However, there are doubts whether the government is sufficiently determined to bring the water companies to heel. The Conservatives are still wedded to the idea of private ownership, despite any misgivings about Southern Water.
We should all own it
The campaigning group We Own It believes nothing short of renationalisation will solve the continual drip drip drip of pollution. After a protest outside Southern's HQ in Worthing in July 2019, its campaigns officer Ellen Lees said: "We've had 30 years of rising bills, shareholders and CEOs pocketing millions, and private companies failing to fix leaks in the system… water companies that have ripped us off, polluted our rivers and allowed cash to flow straight from our bills into their shareholders' bank accounts."
Hastings' Labour council agrees – it is at the top of their six-point plan, including demands for increased monitoring to hold Southern Water responsible and prevent further leaks and discharges. The GMB Union, too, backs nationalisation and has just launched a Take Back the Tap campaign.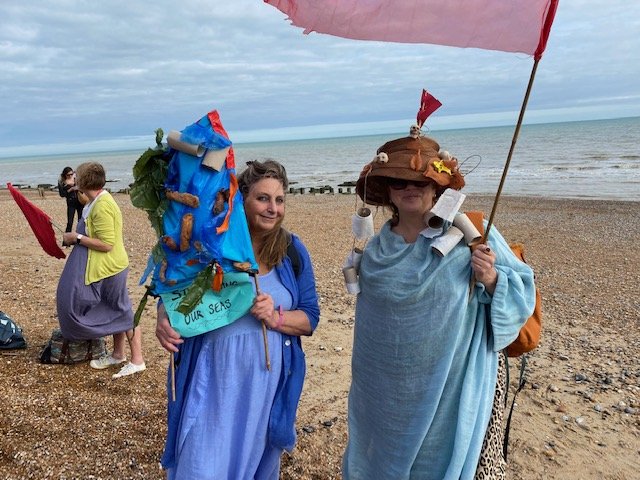 At the 2019 election, Labour put the cost of renationalisation at £14.5bn, to be funded by issuing government bonds. Arguing the case at the 2019 Labour Party conference, the then shadow chancellor, John McDonnell, said: "Water bills have risen 40% in real terms since privatisation…Water companies receive more in tax credits than they pay in tax. Each day enough water to meet the needs of 20 million people is lost due to leakages. With figures like that, we can't afford not to take them back."
Today, Labour leader Sir Keir Starmer continues to back what he prefers to call "common ownership". Other opposition parties are also poised to raise the temperature on water companies as activists gather ahead of the autumn round of party conferences.
Dividends bonanza
The Greens also back common ownership. Julia Hilton, Green Party Borough and County Councillor, told Hastings beach protesters it was just plain wrong to put "private profit before clean water…this is a public service that should never have been privatised."
She went on to explain that in both Scotland and Wales, water supplies are run on a not-for-profit basis, while in England researchers at Greenwich University had calculated that at least £50bn had been paid out in shareholder dividends since 1989. She added: "This is our money from paying our water bills that should have been used to pay for better infrastructure so that we all have the clean water that we, and the natural world, deserves."
James Partridge, chair of Wealden Liberal Democrats, says there is an urgent need for investment in "crumbling" infrastructure. "The system is barely able to cope at the moment, and clearly not capable of coping with more housing. Whoever owns the water companies, they need more capital – either through investment funds or government borrowing."
The Lib Dems believe the government will never be prepared to borrow enough money: "It's not a practical reality," Partridge says. So rather than push for renationalisation, the party is actively campaigning for better regulation. Ofwat, he says, turns down a lot of investment proposals because of the higher costs that would be passed on to consumers. "We would change the factors that Ofwat has to take into account so that investment in the longer term is given greater weight than it is at the moment."
This, he admits, would also mean higher water bills. "Bills are going to go up whatever happens, because of the infrastructure needs and because of climate change. But this investment has to happen."
LATEST: A new sewage spill on 11 August closed beaches for swimmers between Herne Bay and Tankerton. It follows the Hastings beach closures earlier in the month and is the third recorded major spillage along the south coast in less than two months. In a statement, Southern Water wrote: "We understand the upset and disruption this type of incident causes and we continue to strive to do better."