On a recent ramble through Devil's Dyke, my gaze was drawn to the opposite side of the precipitous valley, where a dense, vaguely oval splodge of deep green looked promising. I knew of records from here but hadn't expected to find any so quickly. I gracelessly descended into the dyke, across the bottom, and began clambering up the 50-degree incline towards the tree. As I approached, my suspicions were confirmed. Juniper.
The common juniper (Juniperus communis) is a small yet underrated conifer in the cypress family, growing up to 10 metres tall, often on steep slopes. Among its distinguishing features are a deep blue-green foliage of short sharp needles, each with a white band running down its centre. It's dioecious, meaning that male and female reproductive structures occur on different plants, with pollen from the male 'flowers' dispersed by the wind in Spring.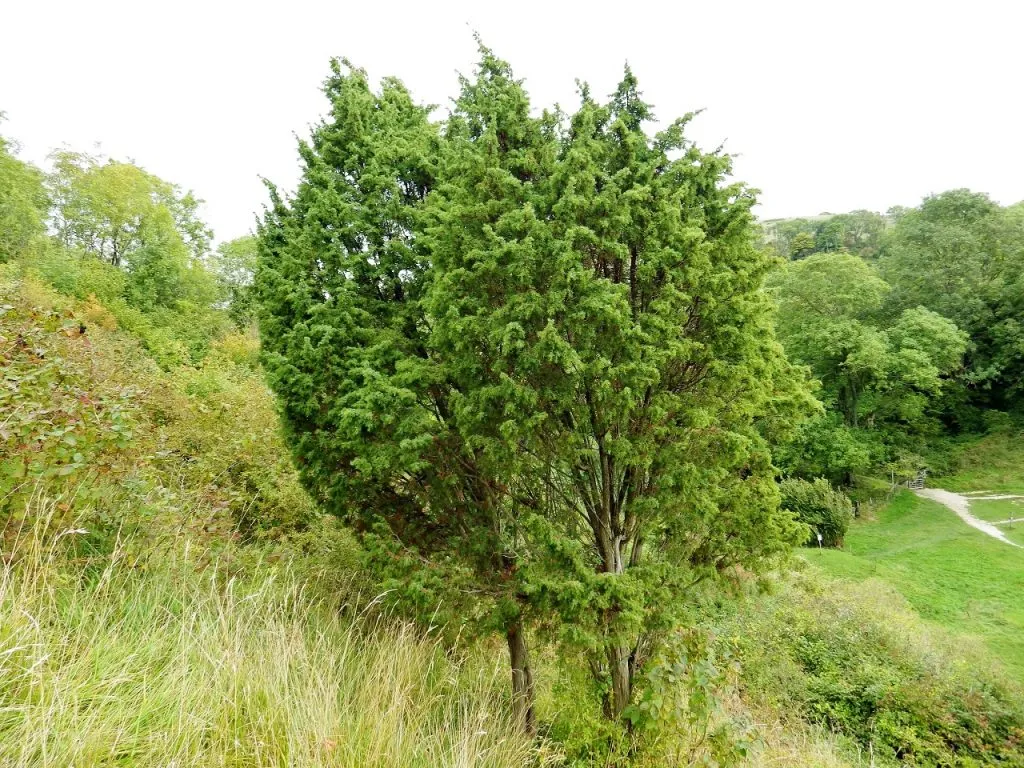 It has one of the widest native distributions of any tree, from Alaska eastwards to Japan and southwards to California and North Africa. Strongholds in Britain are in Scotland, northern England and, historically, the chalk downlands of the south. The juniper is one of only three native conifers in the UK, and our only native cypress. However, it is also under threat.
The juniper in history
With near ubiquity in the northern hemisphere, the juniper is well represented in cultural history and folklore. There are Biblical references, such as an Old Testament passage in which the prophet Elijah, hunted by Queen Jezebel, flees into the wilderness and shelters beneath a juniper tree. Its aromatic smoke was used as incense in ancient temples, to fumigate the air during disease outbreaks, deter witchcraft, and as part of other spiritual rituals. Later in history, the relative invisibility of this smoke made the wood a good fuel for illicit whisky stills in the Scottish Highlands.
Juniper berries (actually fleshy cones), have been used since time immemorial to treat a seemingly inexhaustible range of ailments in people and livestock, from bacterial infections to digestive trouble, diabetes and parasitic worms. There's history at least as old as the Roman Empire of the berries being recommended as a natural contraceptive and abortifacient.
Gin-making
Juniper berries are also used to flavour food and most famously of course, they are the flavouring agent in gin. Originally a medicinal liquor, gin was developed commercially in the Dutch Republic. Berries were widely sourced, including from Britain, to produce this Dutch jenever (from the etymological root juniperus).
Following the Glorious Revolution of 1688, which installed the Protestant Dutch Prince William of Orange on the British throne, gin became an unofficial national drink, as new laws encouraged unregulated distilling and restricted the import of brandy from Catholic France, with whom William was at war. The resulting surge in cheap gin led to a period of copious consumption and debauchery known as the Gin Craze. While better regulated today, the juniper-infused spirit remains popular in Britain.
Importance to wildlife
Juniper has a valuable role in wildlife communities. Numerous insect species are associated with it, particularly moths whose larvae feed on different parts of the foliage. Some are nationally rare, such as the Gelechiid moth, Dichomeris juniperella, known from just a few records on juniper stands in the Cairngorms. Other associated invertebrates, like the juniper berry mite, are problematically common.
The berries are eaten primarily by thrushes, which disperse the seeds, and the dense evergreen foliage provides cover and nesting sites for these and other birds, while also making it a good 'nurse plant' for sheltering seedlings of other trees.
Juniper's decline
While juniper is globally widespread, it has undergone steady declines in lowland parts of Europe, a trend that has accelerated since the 1970s, particularly in southern England. It's unclear precisely why this is happening, though likely factors include overgrazing both by livestock and excessive populations of deer and rabbits. Like other conifers, juniper isn't particularly palatable, but herbivores will eat it, especially seedlings, if better forage is scarce. It's also susceptible to several species of Phytophthora – soil-borne pathogens which fatally damage the roots.
Of particular concern is low regeneration; juniper populations are increasingly composed of ageing trees with little or no recruitment of seedlings. As agriculture has expanded and intensified, populations have become fragmented and isolated, inhibiting successful pollination (recall that juniper is wind pollinated, and dioecious, thus unable to self-pollinate). To make matters worse, as remaining trees age they produce less viable seed, creating a catch-22 of decline known in population ecology as an extinction vortex. In this context parasites that infest the berries, like the aforementioned mites, can become a serious issue.
Plant a juniper
As I've argued elsewhere, the South Downs National Park Authority must recalibrate its priorities towards large-scale rewilding and habitat connectivity if it is to prevent further fragmentation of juniper populations. It needs to provide space to maximise the opportunity for natural regeneration, supplemented by planting.
Alongside this, we individuals may be able to help in a small way too. If you have a garden, consider planting a domestically grown seedling; perhaps convince a neighbour or two to join you. And the next time you're savouring a gin and tonic, spare a thought for the juniper, and share the story of this vanishing tree.