When I arrived at the Falmer campus in October 1993, I was ready for new adventures. My life growing up in East Anglia felt so sheltered and oh so white. I was always the one who was different at school. Then I started my university degree and absorbed myself in campus life where everyone was different. There was no 'normal'. Those early days in the first year felt like liberation into a life where I could be myself and find out who I really was.
I loved my course where I studied such varied writers and perspectives. I was enchanted and liberated by studying Black Women writers, writers of the Indian diaspora, and was encouraged to be critical of everything that had been upheld at school. Learning at Sussex is about being encouraged to speak up, to question and to think about the world in different ways.
And then there's campus life, wandering from bar to bar, or to a party in a kitchen somewhere. In the first few months, most of my socialising was on campus, with some trips into town to go on the pier or to the student nights at clubs. I remember the ironic 'Margaret Thatcher Experience' at one of the student nights where everything was 80p, and Thursday nights at the Zap Club where the last song of the night was always Sunshine On A Rainy Day.
Second year and beyond brought me more into Brighton life. Most Sussex graduates talk of the steps up to the library to get books to read, and then having to stagger up Elm Grove or Southover Street with all those books. It was a time of political debates in pubs, of no cameras or mobile phones to document it all, and a time of learning about culture, different ideas and changing the world.
My years at Sussex really shaped who I am. I have never managed to leave Brighton for long since graduating and it's the same for many Sussex graduates. The enchanting mix of the beach, the culture, the excitement and the possibilities keep most people here.
I have spent many years working away from Brighton, but I have always lived here. And in recent times, as I've worked in Brighton more, I have developed relationships in the local business community. The Sussex Alumni team really keep people engaged and our business has employed graduates from Sussex as interns. Last year I was lucky to feature in the 60 years of Sussex anniversary video.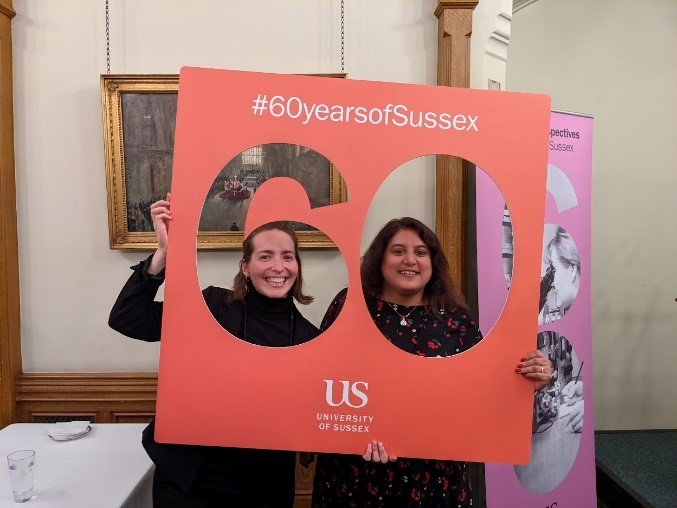 I also joined an event at the House of Commons to celebrate 60 years of Sussex research. I'm always very proud to be a Sussex graduate, and I find that most people are. It doesn't take long into a conversation for someone to tell you they're a Sussex graduate. There really is a spirit of Sussex.