I want to tell you about a trip: a work trip, a long-distance trip and an amazing trip. We took our Sussex science to Africa.
One warm August evening, we set off from the University of Sussex with gigantic suitcases carefully packed with reagents and cells ready for the eager students who awaited our arrival at Yobe State University in Nigeria. We were travelling with a "dry-shipper" carrying living cells in dry ice ready for the summer school attended by postgraduate students coming from all over Africa, excited to learn more about neuroscience.
Long journey to a different culture
Seven hours later, safely through customs with our BA-allowed 2.5kg of dry ice, we were met at Nnamdi Azikiwe International Airport in Abuja by a liaison who guided us through the visa-on-arrival process and took us to a hotel to rest before our internal flight to Kano later that day. My first real taste of Nigeria was at Abuja airport, where we witnessed busy scenes as porters stacked suitcases high and loaded them onto the plane, travellers hurriedly making their way to the gates, families embracing in farewells, vendors showcasing their products, and taxi drivers jostling for potential passengers. A tussle with security threatened the destiny of our dry-shipper but as we boarded the plane we noticed a man carrying it across the runway like a baby. We sighed with relief. The cells were still with us!
Arriving at Kano, the heartbeat of Northern Nigeria with its rich history and bustling populace, we were warmly greeted by state officials from Yobe State, the proud home of the newly established Biomedical Science Research and Training Centre (BioRTC) located in the Yobe State capital of Damaturu. Our journey to Damaturu began immediately.
During the five-hour drive, we were captivated by the lively scenes around us. We passed bustling marketplaces, children playing by the roadside, and farmers working diligently in their fields.
BioRTC was set up by Dr Mahmoud Bukar Maina, an independent Research Fellow in Neuroscience who studied and worked at the University of Sussex. I was fortunate to supervise his Masters and PhD and I now watched in awe as he launched this incredible initiative, bringing the potential to develop neuroscience research to budding researchers in Nigeria and beyond.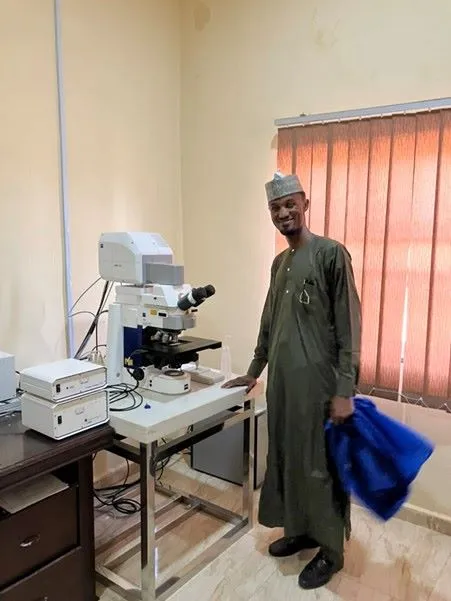 Summer school from Sussex to Yobe
We are here for summer school, a funded event that gives the opportunity to students to learn new techniques, and to use the donated molecular biology equipment populating the BioRTC building. Notably, this includes the only "confocal microscope" in Nigeria which enables us to see cells in 3D. By Monday, we are in the lab, working with a group of excited students who have travelled here from other states in Nigeria and wider Africa – Cameroon, Egypt, Ghana to name a few. The first experiment was to measure protein concentration. Students listened carefully and followed the instructions of the main tutor Dr Karen Marshall. Other groups worked concurrently, examining the retina of the eye or genetically crossing fruit flies to enable neuroscience assays to be run.
Tea, sweet coffee and delicious meat or vegetable pies accompanied a welcome break and a networking session with allocated students. I found discussions at each break incredibly inspiring, as students told us of their current projects on natural compounds to combat neurodegeneration, why they had travelled from their homes to be there and their hopes for the future. They will return equipped with new knowledge and, I hope, new motivation for science. Seeing the enthusiasm and dedication of these students was truly heartwarming. It's clear that initiatives like BioRTC are not just building infrastructure but are shaping the future of science in Nigeria by empowering the next generation.
I had never visited Nigeria, but Mahmoud is a native Nigerian, born and raised in Yobe State. Other Sussex tutors had been last year to this annual event and my nerves about the unknown were calmed by their stories of the hospitality and the culture. Nothing could have prepared me, though, for what I experienced: the intelligent, thoughtful students, the warmth of the welcoming team and guards who travelled with us, the kindness of the Yobe State Government which was responsible for ensuring we were comfortable throughout our stay, and even sponsored our safari trip at the Yankari Game Reserve.
Commitment and cooperation for future development
The state has a genuine interest in BioRTC's success, and the broader development of science in the region. We met the Secretary to the Yobe State Government who reiterated the Governor's commitment to promoting science and making BioRTC a national reference centre to eventually tackle medical research problems.
While my visit was short, the impact was profound. I left with a sense of hope, inspired by the potential of BioRTC. The centre, with its dedicated team and supportive community, is undoubtedly on a trajectory to redefine scientific research in Nigeria and beyond. This is a trip I will never forget. The beauty of the country and the generosity and kindness of the people of Nigeria will forever be with me. I hope that I will visit again to maintain the valuable link between Sussex and Nigeria and to follow the BioRTC's progress to benefit scientists in Africa.